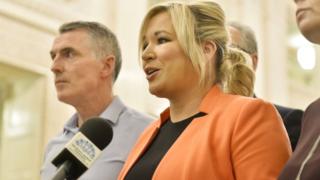 Sinn Féin has said it will meet both the Irish and UK governments on Thursday to discuss the latest failed bid to restore power sharing.
The talks ended on Wednesday after the DUP declared there was "no current prospect" of a deal.
Both parties had been in negotiations in a bid to end the 13-month stalemate at Stormont.
Arlene Foster said the talks failed due to disagreements with Sinn Féin about legislation for the Irish language.
'Depressing'
Sinn Féin's Stormont leader, Michelle O'Neill, accused the DUP of having "collapsed" the talks process.
Her party colleague, Conor Murphy, told the BBC's Good Morning Ulster programme that the DUP's statement on Wednesday was "very depressing".
"We were working on the basis that accommodation had been reached," he said.
"We were expecting the DUP to go off and close the deal in relation to that, but they didn't do it.
"So, we want to talk to the two governments today, and I don't doubt we will be in touch with the other parties to see where this goes from here," he added.
Analysis: Enda McClafferty, BBC News NI political correspondent
Picking up the pieces after another failed talks process is not where both governments expected to be.
But, they will now have to plot the next move after negotiations between the DUP and Sinn Féin broke down on Wednesday.
The parties have clashed over who was to blame.
Sinn Féin will set out its response to the collapse after meeting both governments.
While the DUP have made it clear they want Westminster to take charge and legislate for a budget, it is now up to London and Dublin to decide how the talks process can be salvaged.
After the DUP and Sinn Féin blamed each other for the lack of agreement, the Northern Ireland secretary signalled that a deal remained possible.
"I believe the basis for an accommodation still exists," said Karen Bradley.
However, she is expected to come under pressure to legislate for budget at Westminster.
The Shadow Secretary of State Owen Smith told the BBC it was "enormously disappointing" that the talks collapsed.
The Labour MP called for Karen Bradley to "offer some clarity" and publish details of "where progress was made, and where agreement was possible".
"I don't think it's good enough, frankly, to continue with this veil of secrecy with people unable to be certain about where there was agreement or where there wasn't," he added.