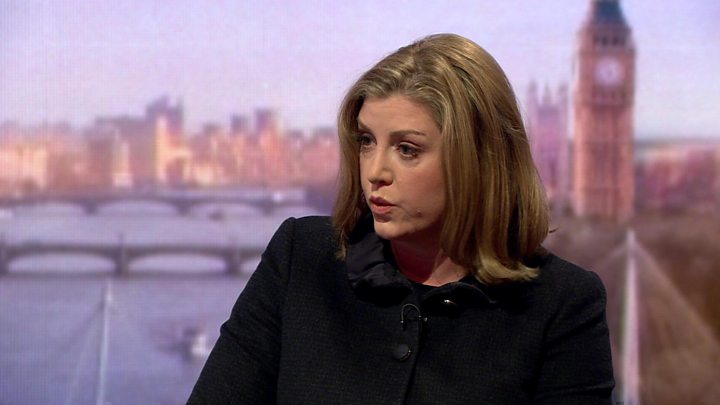 Ministers could cut off funding for Oxfam if it cannot account for the way it handled claims of sexual misconduct by aid workers, the international development secretary has warned.
Penny Mordaunt will meet the charity on Monday to hear more about claims staff used prostitutes in Haiti in 2011.
She said Oxfam had failed in its "moral leadership" over the "scandal".
She told Andrew Marr other charities should report any similar issues and pledged they would all be followed up.
Oxfam has faced growing criticism over the way it handled the allegations of misconduct by its staff in Haiti, where they were working in the aftermath of the huge earthquake that devastated they country in 2010.
Its own investigation into the allegations led to four people being sacked and three others resigning – among them its country director for Haiti, Roland van Hauwermeiren.
Oxfam has said it was "dismayed by what happened" and has since set up a hotline for people to report sexual abuse and misconduct.
But Ms Mordaunt said it was "a complete betrayal of both the people Oxfam were there to help and also the people that sent them there to do that job", describing it as "a scandal".
And she said Oxfam did "absolutely the wrong thing" by not reporting the detail of the allegations to the government.
She said it did not matter how good the safeguarding practices were in an organisation if they did not "have the moral leadership to do the right thing", adding: "If the moral leadership at the top of the organisation isn't there, then we can not have you as a partner."
She said she was considering whether the organisation should receive any more funding from the Department for International Development – which gave it £32m ($44m) in the last financial year.
Fresh claims
Meanwhile, Oxfam is facing further allegations, reported in the Observer, that its staff used prostitutes in Chad in 2006.
That mission was also led by Mr van Hauwermeiren.
Oxfam said it could not corroborate the latest claims but it said it was "shocked and dismayed" at what it called the unacceptable behaviour by a small number of people.
"Since the Haiti case in 2011 we have introduced a range of measures to prevent sexual abuse and misconduct happening in the first place and improve how we handle any allegations," the charity said.
'Culture of denial'
The Sunday Times has also reported new allegations, saying more than 120 workers from UK charities were accused of sexual abuse in the past year.
Ms Mordaunt's predecessor as international development secretary, Priti Patel, said she was aware of the wider issue of sexual abuse and child exploitation in the aid sector from when she was at DfID.
She told Radio 5 Live's Pienaar's Politics there was "a culture of denial in the aid sector about the exploitation and sexual abuse that has taken place historically for decades" and called for a database for "predatory paedophiles" who she claimed could be infiltrating the organisations.
"We need them… to stop this disgusting and corrosive culture of the revolving door in aid agencies," she added.
Ms Mordaunt said she suspected there were paedophiles "targeting" the sector to carry out predatory activities, saying that was why it was so important that aid organisations reported offences.
But, speaking on the BBC's Sunday Politics, author and columnist Zoe Williams said the controversy was being used as a way to "reopen the debate" on international aid.
She said sexual predators used organisations such as churches, aid programmes and boarding schools, but nobody said "let's close down the Church", adding: "It is mistaken to see this as a taint on the entire aid industry."
Shadow foreign secretary Emily Thornberry said she was concerned the scandal could lead to fewer people donating to charities.
She told Pienaar's Politics: "What happens to those people in acute distress who need the assistance?"
What happened when?
The allegations of misconduct by Oxfam staff in Haiti date from 2011 but came to light in a report in the Times on Friday.
The charity's country director for Haiti, Roland Van Hauwermeiren, is alleged to have used prostitutes at a villa rented for him by Oxfam in the aftermath of the 2010 earthquake.
Oxfam knew about the allegations at the time and launched an internal investigation, as result of which four members of staff were dismissed.
Three others, including Mr Van Hauwermeiren, were allowed to resign before the end of the investigation.
The charity says it made a report public at the time which said "serious misconduct" had taken place in Haiti and issued a press release – but did not give details of the allegations.
It told the Charity Commission it was investigating inappropriate sexual behaviour, bullying, harassment and staff intimidation but did again not reveal the exact details.
The regulator took no further action at the time, but has since said it would have acted differently had it known all the facts.
Oxfam has denied any cover-up.